Translations – Interpreting – Specialist Translations
Lingua-World is one of the very few specialised professional translation and language services available. Established in 1997, Lingua-World is committed to constantly providing clients with linguistically flawless translations.
HAPPY BIRTHDAY LINGUA-WORLD
Dear friends,
Lingua-World is about to turn 19 years old!
The ideal opportunity to say thank you – Thank you for trusting us for all these years and thank you for letting us work with you on so many exciting projects! Your Lingua-World Team
Read more »
GREAT NEWS!
Lingua-World proud to have been named a level 2 B-BBEE contributor for the year 2017, and we're more inspired and determined than ever to further support the development of the people of South Africa. Read more »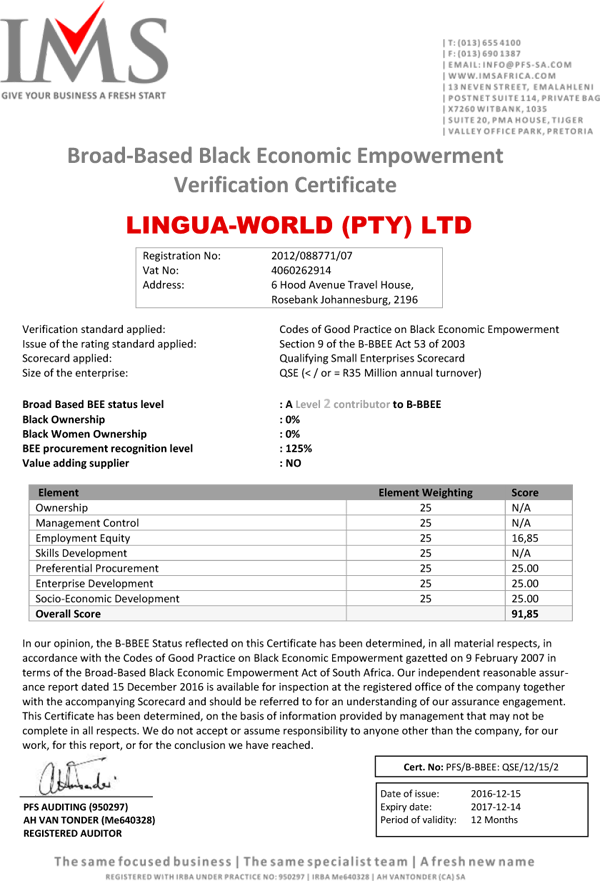 South African Sign Language
Why learn South African Sign Language? (SASL)
Knowing Sign Language does not only open doors to a whole range of career opportunities but also helps you learn a whole new culture. More and more hearing South Africans are learning South African Sign Language to improve relationships between hearing and deaf communities.

The Lingua-World sign language course combines flexibility and affordability
Taking into account the daily demands of work and family life, Lingua-World offers flexible study options to accommodate different time constraints.
More information about the course and how to register »
Lingua-World translators and interpreters
We offer a comprehensive range of services in language translation and in the interpretation industry. Health care translation, business translation, corporate translation, legal translation, medical translations, document and website translation, proof reading and editing are just a few of the many specialised professional translation services and language services Lingua-World provides.
Our guaranteed flawless translations are due to almost two decades of experience in the industry. We use only the most proficient and accomplished of interpreters and function on the highest level of professionalism. Here at Lingua-World our specialist translators and interpreters do not simply "translate". All translators hired by Lingua-World are native speakers and this guarantees the client that the message is always correctly and flawlessly translated. All our translators have qualifications from specialised academies or colleges or have completed a course in advanced language studies. Many translators also hold the certifications needed to work on Government and Police Service Projects.
The translators and interpreters at Lingua-World have expansive knowledge in the particular field or industry that they are translating for, making Lingua-World the perfectly tailor made translation service. Our translators have in health care knowledge, business knowledge in respective fields, legal knowledge as well as medical knowledge. The knowledge that our translators have is imperative to business translation. Having specific business knowledge and knowledge of regional languages, our translators can effortlessly translate texts for business trade. Because all translators are native speakers and knowledge of regional language, they will naturally compensate for cultural based differences in thought pattern.
Whether the client needs business translation, health care translation, corporate translation or a multitude of other subject matters translated, we at Lingua-World have a specialist translator on call. This makes Lingua-World the ideal in translation service agencies.
Our rare and distinct specialist translation services are what have built us a reputation as a leader in the language sector. Lingua-World offers you the consummate professional translation solution that will impart a superior end product efficiently and cost effectively. Combined with our extensive portfolio of highly qualified translators and interpreters, we will ensure that all your editing, translation and interpreting needs are always met promptly and at only the highest standards.
The comprehensive range of Lingua-World language services includes
Translation Services
A linguistically perfect translation is an essential business tool, as it ensures correct and effective communication. Lingua-World has access to more than 10.000 qualified and professional native speakers and language translators from all over the world.
Arabic, Russian, Spanish, Chinese or Afrikaans to English are but a few of the language translation services available. In fact, Lingua-World is one of the few professional translation companies that can boast a portfolio which includes language translators for all languages and dialects of the world. All translating is done and reviewed by native speakers of the target language. Read more about Translation Services »
Interpreter Services
Lingua-World interpreters are native speakers who are appropriately qualified as professionals in the field. Lingua-World places great importance on professionalism and the interpersonal skills possessed by interpreters undergo a rigorous screening process.
While relevant qualifications and a high competency level are considered to be prerequisites, many Lingua-World interpreters are also legally authorised to assist with government and police assignments. More about the Lingua-World Interpreter Service »
Specialist Services
Lingua-World's professional translators are highly qualified translators often specialising in scientific fields, the fields of business, trade and science. These translators use their language translation skills, specialist knowledge and excellent command of their native tongues when translating business texts.
Lingua-World's professional interpreters are qualified and skilled in business as well as professional language interpretation, making them ideally suited to assist with interpreting at business conferences, negotiations and meetings. More about Specialist Services »
Professional, efficient and cost-effective language translation services
Lingua-World prides itself on providing the most professional, efficient and cost-effective language translation service available. Our clients benefit from a sophisticated software system, SDL Trados Studio 2009, which builds a database of all the commonly translated words for every client to ensure linguistically perfect translations tailored to each client's needs. Each client's future translations then draw on this database enabling faster turnaround times and cheaper rates.
Partnering with an established professional translation company such as Lingua-World will ensure that all your documents and texts are translated and interpreted correctly and effectively.
Lingua-World offers ideal professional translation solutions for those looking for language translation services that will render a high-quality end product efficiently and cost effectively. Our comprehensive range of services, combined with our extensive portfolio of highly qualified language translators and interpreters, will ensure that all your translation, editing and interpreting needs are met promptly.